Sweet potatoes pack the unique health benefits of regular potatoes with a little something extra. "In general, the more color you can add into your diet coming from fruits and vegetables, the better," says Yasi Ansari, a sports dietitian in Los Angeles and San Francisco.
"All potatoes are nutrient-dense and healthy for you," says Brigitte Zeitlin, a registered dietitian and owner of BZ Nutrition in New York. But sweet potatoes—the orange, yellow and purple varieties of the root vegetable—are lower in calories and carbohydrates than the average spud. They're also higher in vitamin A, an antioxidant that boosts immunity and helps you maintain healthy skin and vision. One sweet potato provides far more than 100% of your recommended daily allotment of vitamin A, according to the USDA.
Sweet potatoes are also rich in vitamin C and vitamin B6, which is important for brain and nervous system health. They're also a good source of potassium and magnesium, which help improve heart health by helping to regulate blood pressure.
Even better, one sweet potato has about four grams of plant-based fiber, which helps you maintain a healthy weight and lowers risk of chronic diseases such as type 2 diabetes and high cholesterol.
https://time.com/5498125/are-sweet-potatoes-healthy/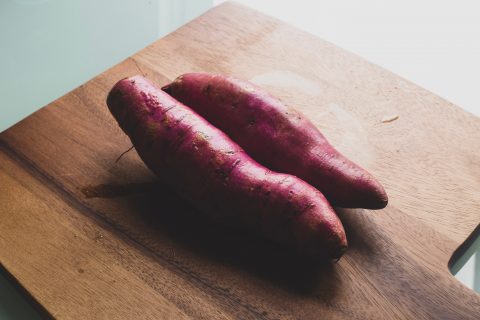 Photo by Louis Hansel on Unsplash
Health Benefits of Sweet Potatoes
1. Calming for the stomach
2. Anti-Inflamatory
3. Heart Healthy
4. Boosts Immunity
5. Rich in Beta Carotine
6. Good for Lung Functions
7. Detoxifies Heavy Metals
8. Reduces Blood Sugar
9. Aids digestion – full of fiber
10. Anti-fungal properties
11. Supports clear skin
12. Prevents constipation
13. Helps with emphysema
14. Prevents Dehydration
15. Treats stomach ulcers
16. Helps with weight loss