Is This a Day of New Beginnings

Add to favorites 
Is this a day of new beginnings,
Time to remember and move on,
Time too believe what love is bringing,
Laying to rest the pain that's gone?
How can the seasons of a planet
Mindlessly spinning round its sun
With just a human name and number
Say that some new thing has begun?
Yet through the life and death of Jesus
Love's mighty Spirit, now as then,
Can make for us a world of difference
As faith and hope are born again.
Then let us, with the Spirit's daring,
Step from the past and leave behind
Its disappointment, guilt, and grieving,
Seeking new paths, and sure to find.
Christ is alive, and goes before us
To show and share what love can do.
This is a day of new beginnings;
Our God is making all things new.
~Brian Wren, SDA Hymnal 342
As we begin a new year, we pray for Christ will do for each of us what is needed so that we all may someday be in His presence and we can celebrate together in Heaven. But while we are here, make a new years resolution to make church a regular event. Make the Sabbath a special day that you do not want to miss with your church family and in worship of our Heavenly Father.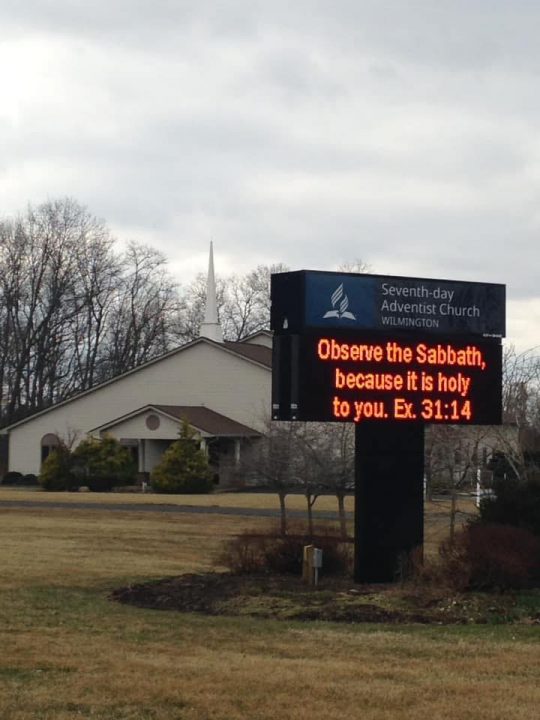 The Wilmington Seventh-day Adventist Church began in a little wooden church on Antioch Road. As the congregation grew,  the church moved into town and was known as "the cute little church on the corner" (at the corner of Locust and N. Walnut streets). As the congregation continued to grow we changed our home one more time to our current location. The first Sabbath in our current church was January 1, 2000. 
   We are comprised of people from all over the Clinton County and surrounding area.  We come together weekly to study the Bible, to be challenged by the sermon, to sing praises to God and to pray.  
   If you are looking for a church that studies the Bible, this is the place.
   If you would like Bible Studies or someone to pray with you or for you,  please feel free to call 937-382-7214 and leave a message (the answering machine is checked 2-3 times weekly) or you can send an e-mail wilmingtonohiosda@gmail.com